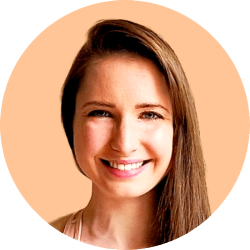 I coach & inspire those who want to get flexible as an adult, bend the rules, and stretch the limits!
I have over 7 years of experience in flexibility and mobility as a yoga practitioner and teacher. I'm also a newbie contortionist which further implies my love of working on my body and bringing out its potential.
Though I still can't sit on my head, I'm happy to share my knowledge and experience in getting more flexible and mobile with those who're just starting out or got stuck in their flexibility training – whether it's about front splits, middle splits, or back bending in bridge pose.
I can still recall my elementary school classmate during PE class when she was practicing for her rhythmic sport gymnastic performance. I was so fascinated by her flexibility, mobility, and control over her body! However, I haven't told my parents about this experience and that I want to do this so badly. So I had to work on it as an adult.
Exercise has always been a huge part of my life, however, I started taking it more seriously when I began practicing yoga in 2016. At that time, yoga gave me a lot of knowledge and value on the physical body and beyond. Hence, I finished my 200-hour hatha yoga teacher training course by Yoga Alliance International in 2019, followed by a 100-hour Ayurvedic yoga therapist training the same year and a 200-hour women-centered yoga teacher training course in 2020.
I led many group yoga classes and private yoga sessions in person and online for years. I also had a series of online fundraising yoga classes, where we raised money for the bunnies at rabbit rescue centers with generous yoga practitioners.
As the years went by, I realized that the potential of the physical body and the control we have during is the one that most fascinate me. Hence, it's probably not a surprise, how I got interested in contortion and began my journey as a beginner contortionist. However, I also wanted to support others in improving their flexibility and mobility via online training sessions.
Whether it's about working on flexibility and mobility, boosting athletic performance, improving your quality of life, or you want to "bend so you won't break", I'll be your personal flexibility trainer.
Subscribe to My YouTube Channel